Welcome to the LNT Store
LntStore is the online storefront for LinkNewTech Inc, a company devoted to innovative new products and technologies for businesses all over the world. Automotive companies use Qwik Draw for the latest technology in Automotive Fluid Exchange Equipment. We also feature a large selection of Car Care Detailing Supplies at discounted wholesale prices!
New Products
Monthly Newsletter : Discounts & Coupons
Control Valve (meter out)
Control Valve (meter out)
Shipping:
Calculated at checkout
---
Flow Control Model CV Specifications and Dimensions:
Dimensions for Reference Use Only: Imperial fittings in Inch, Metric fittings in mm, U.S.O.
| | |
| --- | --- |
| | Complete rotation of the valve body around the bolt allows for optimum positioning of tubing |
| | Compact in size provide space saving installations |
| | Special adjustment needle design allows large adjustment ranges with high precision |
| | Adjustment needles and banjo bodies are retained, preventing accidental loss of needle or lock nut |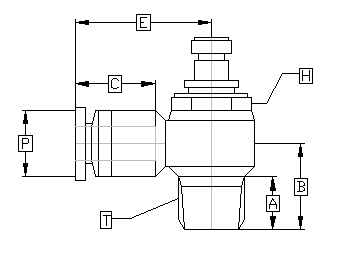 Angle Air Flow Control Valve (Speed Control)
PART NO.

TUBE OD

T
PIPE SIZE

A

B

C

D

E

H

P

WEIGHT (g)

CV 1/8 10-32

1/8

10-32UNF

0.16

0.43

0.47

0.16

0.80

0.31

0.42

8.0

CV 1/8 N1/8

1/8

NPT 1/8

0.34

0.55

0.56

0.16

0.87

0.44

0.43

18.0

CV 5/32 10-32

5/32

10-32UNF

0.16

0.43

0.47

0.16

0.80

0.31

0.42

8.0

CV 5/32 N1/8

5/32

NPT1/8

0.34

0.55

0.56

0.16

0.87

0.44

0.43

18.0

CV 3/16 N1/8

3/16

NPT1/8

0.34

0.56

0.56

0.19

0.95

0.38

0.45

18.0

CV 1/4 10-32

1/4

10-32UNF

0.21

0.46

0.60

0.26

0.94

0.31

0.52

9.0

CV 1/4 N1/8

1/4

NPT1/8

0.34

0.58

0.60

0.26

0.94

0.44

0.52

18.6

CV 1/4 N1/4

1/4

NPT1/4

0.42

0.71

0.61

0.26

1.04

0.56

0.51

36.4

CV 1/4 N3/8

1/4

NPT3/8

0.61

0.85

0.60

0.26

1.10

0.74

0.51

69.1

CV 5/16 N1/8

5/16

NPT1/8

0.34

0.57

0.65

0.32

1.00

0.38

0.57

19.4

CV 5/16 N1/4

5/16

NPT1/4

0.49

0.72

0.63

0.32

1.05

0.55

0.57

37.3

CV 5/16 N3/8

5/16

NPT3/8

0.59

0.87

0.61

0.32

1.13

0.74

0.58

69.4

CV 3/8 N1/4

3/8

NPT1/4

0.40

0.81

0.74

0.38

1.27

0.56

0.72

41.5

CV 3/8 N3/8

3/8

NPT3/8

0.47

0.88

0.71

0.38

1.28

0.74

0.72

71.6

CV 3/8 N1/2

3/8

NPT1/2

0.64

0.99

0.74

0.38

1.40

0.94

0.71

101.6

CV 1/2 N3/8

1/2

NPT3/8

0.59

0.98

0.82

0.50

1.35

0.74

0.83

75.4

CV 1/2 N1/2

1/2

NPT1/2

0.66

1.03

0.77

0.50

1.45

0.95

0.85

104.8

Part No.

Tube OD

T
Pipe Size

A

B

C

D

E

H

P

WEIGHT (g)

CV 4 M5

4

M5

4.7

11.4

23.3

4.1

20.1

8.0

10.7

8.9

CV 4 M6

4

M6

5.2

10.6

13.9

4.1

20.2

8.0

10.6

9.1

CV 4 R1/8

4

R1/8

8.6

14.0

13.7

4.1

22.4

9.9

10.5

17.7

CV 4 R1/4

4

R1/4

0.5

0.7

0.6

0.2

26.3

14.0

12.8

36.8

CV 6 M5

6

M5

4.5

12.5

14.9

6.1

23.8

8.0

13.0

9.7

CV 6 M6

6

M6

5.8

11.5

15.1

5.2

22.4

7.1

11.9

9.8

CV 6 R1/8

6

R1/8

8.6

14.4

14.9

6.1

23.7

9.9

13.1

18.3

CV 6 R1/4

6

R1/4

12.1

18.1

14.9

6.1

26.0

14.0

13.1

36.4

CV 6 R3/8

6

R3/8

13.3

19.7

15.3

6.1

27.5

18.9

13.1

71.7

CV 8 R1/8

8

R1/8

8.5

14.6

15.9

8.2

25.5

9.9

14.6

19.1

CV 8 R1/4

8

R1/4

11.4

17.9

15.9

8.1

26.9

14.1

14.6

37.6

CV 8 R3/8

8

R3/8

13.4

20.4

16.1

8.0

29.4

19.0

14.5

73.0

CV 8 R1/2

8

R1/2

16.2

23.5

15.0

8.2

31.2

23.9

14.6

104.3

CV 10 R1/4

10

R1/4

11.5

20.7

19.1

10.1

31.7

14.0

18.3

40.3

CV 10 R3/8

10

R3/8

13.1

22.0

18.5

10.1

32.6

18.9

18.4

74.9

CV 10 R1/2

10

R1/2

16.1

24.7

19.1

9.9

35.8

23.9

18.1

108.3

CV 12 R1/4

10

R1/4

11.3

21.6

20.4

12.1

31.7

13.9

21.3

43.1

CV 12 R3/8

12

R3/8

13.0

23.2

21.0

12.2

35.4

19.1

21.0

77.2

CV 12 R1/2

12

R1/2

16.6

26.4

21.5

12.0

38.7

23.9

20.9

110.0
Angle Air Flow Control Valve Flow Characteristics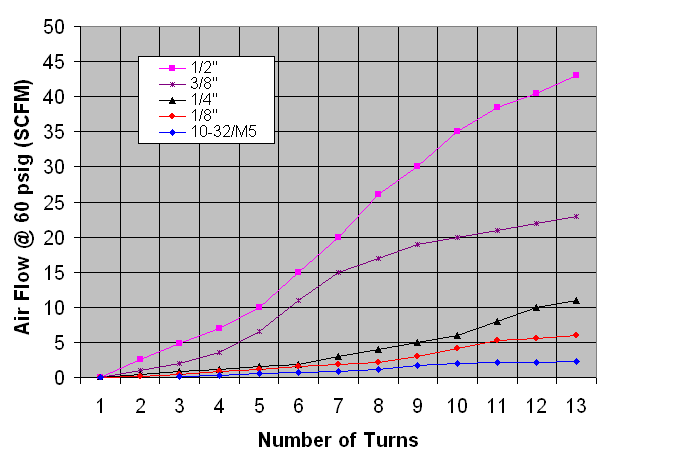 Link to Push-In Air Fitting Installation Procedure and Specifications
Find Similar Products by Category
Customers Who Viewed This Product Also Viewed