2021 Power Steering Flush Machine by QwikDraw PS Flush
2021 Power Steering Flush Machine by QwikDraw PS Flush
Rating:
(

1

product review )
Availability:
Ships in 7-10 Business Days
Shipping:
Calculated at checkout
---

Fully Automatic Power Steering Flush & Exchange Machine
PS Qwik Flush - QD1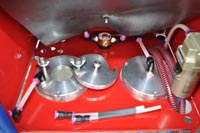 The new Patented Qwik Draw Fully Automatic Power Steering (PS) Flush Machine represents the latest technology in power steering fluid exchange equipment. By turning a single green valve, the precise exchange of fluid directly from the power steering pump reservoir can be achieved with no overflow due to automatic shut-off in less than three minutes. To guarantee zero downtime, the PS Flush is maintenance free with no mechanical pumps or AC/DC components that need replacement. The Qwik Draw 10 Liter Power Steering Flush has a remote empty feature in Disposal mode to save time and gain productivity. The large swivel casters and small footprint make the PS Flush Machine highly maneuverable in tight spaces. The PS Flush is simple to use, keeps the user and shop clean, and is environmentally safe. These innovations make the Qwik Draw PS Qwik Flush the fastest on the market with zero Error.
Power Steering Service Supplies for QD1 PS FLUSH
Features
Qwik and easily flushes power steering fluid in less than 3 minutes!
10 liters capacity special see through fiberglass tanks.
Color Coded control valves for easy use.
Easy Access 2" Lid opening for quick refills
Easy Access Fill Lid in Back Panel
Environmentally safe. No hoses to disconnect, and no spills on the shop floor.
NO fluid overflow
No hazardous chemicals for the technician to come in contact with.
Energy saving, no electricity or batteries required. Operates with shop air.
Heavy duty rugged design. Durable aluminum construction.
Made in the U.S.A.

Dimensions
Weight : 55 Lbs (empty)
Height : 58"
Width : 16"
Depth : 16"
Helpful Links
Product Videos
The Best Power Steering Flush Machine In The World
(04:07)
The Tool and Equipment Magazine Innovation Award Winner - Power Steering Flush Machine. Our Qwik Draw Power Steering Flush Machine quickly and easily flushes out the power steering fluid in less than 3 minutes! It is environmentally safe, and you don't have to worry about safely disconnecting the hoses, or spilling on the shop floor.
The Best Power...

The Tool and Equipment Magazine Innovation Award Winner - Powe...
Product Videos
---
Warranty Information
Limited United States Warrenty (more warrenty's available upon request)

Seller warrants this product against defects in materials and workmanship for a period of 12 months from the date of original purchase. If the Buyer discovers a manufacturing defect in the product, the Seller will, at its option, repair or replace the product at no charge to the Buyer. To qualify for warranty repair or replacement you must comply with the following:

1. You must return the product during the warranty period to the Seller with transportation and insurance charges prepaid.

2. When returning the product, attach your name, address, work day telephone number, a description of the problem and a copy of the bill of sale bearing the serial number of the returned product for proof of the date of original retail purchase.

3. Pack the product properly (preferably in its original carton) to prevent damage in transit. You may choose to insure it, but this is not required. The repaired or replaced product will be returned to you at our expense. The warranty term on any product which has been repaired or replaced under this warranty shall be the remainder of the warranty as extended by the number of days that the product was out of your hands for repair. Should Seller determine that the product is not defective, is not covered by the warranty or is outside the warranty term, Seller shall return the product to you at your expense without being repaired or replaced. This warranty does not apply if the product has been damaged by accident, abuse, external causes or events, misuse, improper installation, neglect or misapplication, has been altered or modified without the written permission of Seller, has been serviced by a non-authorized repair center of Seller, has not been properly maintained or operated according to the operating manual; has been used for noncommercial purposes; or if the serial number has been removed or defaced.

ALL IMPLIED WARRANTIES, INCLUDING IMPLIED WARRANTIES OF MERCHANTABILITY AND FITNESS FOR A PARTICULAR PURPOSE, ARE LIMITED IN DURATION TO THAT SET FORTH ABOVE.

NEITHER SELLER NOR ITS AFFILIATES ARE RESPONSIBLE OR LIABLE FOR ANY LOSS, INCONVENIENCE OR DAMAGE, WHETHER S P E C I A L , D I R E C T, I N C I D E N T A L , CONSEQUENTIAL OR OTHERWISE, AND WHETHER KNOWN OR SHOULD HAVE BEEN KNOWN TO SELLER, INCLUDING LOST PROFITS, GOODWILL, DAMAGE TO OR REPLACEMENT OF OTHER EQUIPMENT AND PROPERTY AND PERSONAL I N J U R Y RESULTING FROM A N Y B R E A C H O F WARRANTY, THE INABILITY TO USE THE PRODUCT OR UNDER ANY LEGAL THEORY IN CONTRACT OR TORT. THESE WARRANTIES AND REMEDIES ARE THE SOLE A N D EXCLUSIVE WARRANTIES AND REMEDIES IN CONNECTION WITH THE SALE AND USE OF THE PRODUCT. NO OTHER WARRANTIES, ORAL OR WRITTEN, EXPRESS OR IMPLIED, A R E G I V E N . S E L L E R ' S L I A B I L I T Y WHATSOEVER SHALL BE LIMITED TO THE ACTUAL PURCHASE PRICE PAID FOR THE DEFECTIVE PRODUCT.


Find Similar Products by Category
Product Reviews
Increase your per ticket average

Posted by Jason Lyon - General Manager on 21st Dec 2010

Wow, what a great way to increase your per ticket average and serve the needs of your well established guests. We average upwards of 125 power steering services per month since we added the Qwik Draw Power Steering Flush Machine. These additional services have not increased our baytime because of how quick and easy the machine is to operate! Thank you, Qwik Draw, for helping us to improve the quality of our service.
Customers Who Viewed This Product Also Viewed