Brake Flush & Bleeder Machine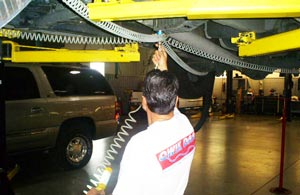 Patented Wheeled Cart DOT Brake Flush Machine. The QD8 DOT features two special fiberglass canisters with a combined capacity of 10 liters, easy to use and maneuver around the shop due to its 5" Swivel Casters that allow it to easily be moved into any tight space. The DOT machine can exchange your brake fluid in less than 10 minutes. The QD8 service machine engineered with special aluminum construction for heavy commercial industrial duty use and has been successfully approved in the USA and worldwide for the last 10 years for its durability and reliability. Backed by our standard warranty and 24/7 Free Tech Support, the QD8 is the best choice on the market today for Brake Fluid Flush and Exchanging equipment. Special Warranty's programs are also available.
Packages
DOT Flush- QD8
Included is all 13 Automatic Adapters & Chains for all makes & models, also features the complete brake bleeding octopus for simoulstaneous brake bleeding of all four cyilinders and Abs Sytem.
DOT Flush- QD82
Included is the complete brake bleeding octopus for simoulstaneous brake bleeding!
DOT Flush- QD81
Inlcluded is one Brake Bleeder.
Features
Flushes and Bleeds all the brake cylinders and Abs System at the same time, making the DOT Flush the fastest in the world.
12 liter capacity special see through fiberglass tanks.
The QD8 Brake flush machine bleeds air from the master cylinders.
The QD8 Can Pressurize and Vacuum Simultaneously
Easy Access 2 inch fill lid for fast refills of brake fluid
Energy saving, no electricity or batteries required.
Operated with shop air.
Color coded control valves for easy use.
Environmentally safe. no hoses to disconnect, and no spills on the shop floor.
No hazardous chemicals for the technician to come in contact with
Heavy duty rugged design. Durable aluminum construction.
Made in the U.S.A.
Dimensions
Weight : 55 Lbs (empty)
Height : 54"
Width : 16"
Depth : 16"
Brake Action Shots
Why Change your Vehicles Brake Fluid?
Brake Fluid is a hot topic because most people don't know why it should be changed. Did you know the average motorist who drives 10,000 to 15,000 miles a year uses his brakes about 75,000 time a year? Did you know that nearly half of all motorists in a recent Car Care Council survey said brake failure was their number one fear amongst driving emergencies?
So consider this: After three years of service, the average boiling point of the brake fluid has dropped to a potentially dangerous level because of moisture contamination and may not meet minimum federal requirements for brake fluid. Keep Reading >>
Our Brake Service Supplies for the QD8 DOT FLUSH
Helpful Links