Speed Draw Coolant Flush and Exchange Machine
Speed Draw - QD2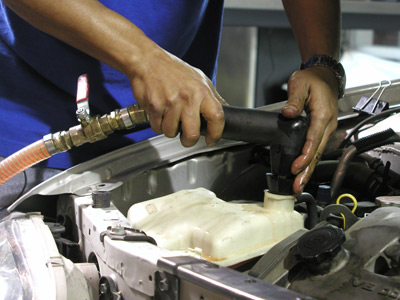 The new Patented Ten Gallon Qwik Draw Coolant Flush and Exchange Machine. Without disconnecting any hoses and by turning a single valve, the Speed Draw uses vacuum to completely exchange coolant and remove air pockets from all vehicles in less than five minutes directly from the radiator or expansion tank. To guarantee zero downtime, the Speed Draw is maintenance free with no AC/DC components or mechanical pumps that need replacement and is capable of exchanging vehicle coolant and emptying used coolant remotely increasing productivity. The Speed Draw is Back Flush Kit Ready which accommodates the new Qwik Draw back flush universal adapter eliminating a step down adapter and clamps. The large 2.5 inch diameter tank opening and advanced center control valve facilitates fast and spill free use of the Qwik Draw. These innovations make the Qwik Draw Speed Draw the fastest on the market with zero error.
Features
Quick, compact, and efficient. Flushes and changes automotive coolant in less than 5 minutes and Eliminates Air pockets!
The Easiest and Fastest Coolant System Flush to Operate
10 gallon capacity special see through fiberglass tanks
Energy saving, no electricity or batteries required.
Easy Access 2.5 inch Fill Lid for instant refill
Can operate remotely!
Color coded control valves for easy use.
Environmentally safe. No hoses to disconnect or cut, and no spills on the shop floor.
No hazardous chemicals for the technician to come in contact with.
Heavy duty rugged design. Durable aluminum construction.
Safe and Easy one step breaking system!
Back Flush Kit Ready
Made in the U.S.
Dimensions
Weight : 77 Lbs (empty)
Height : 64"
Width : 18"
Depth : 16"
Flash Animation Interactive Training Demo
Coolant Demo 2005 & Up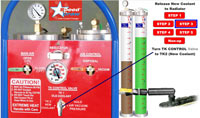 Coolant System Service Supplies for Equipment
Why Change Your Coolant?
Antifreeze/Coolant experts have a warning for those neglecting their cooling systems. Most people have some idea that antifreeze/coolant helps prevent the radiator and cooling system from freezing up or boiling over. Few people understand that coolant also contains special chemical additives to prevent serious damage from rust and corrosion. However, over time, the additives wear out. This depleted coolant becomes acidic and can actually corrode the metals in the cooling system. There's where your trouble begins.
Overheating - Old, depleted coolant can't do it's job of helping your engine shed heat -- and heat is enemy #1. That's why you have a cooling system in the first place.

Corrosion - More cooling system parts are now made with aluminum. In fact, the tubes in your radiator are only the thickness of a soda can top. Since aluminum is very vulnerable to corrosion, old, depleted coolant can allow pin holes to form in the tubes and lead to leakage an overheating.
Clogging - When aluminum corrodes, the by-products of corrosion deposit in the radiator. The deposits clog the radiator and actually act like insulators so the system can't cool as well. As the cooling system gets hotter, even more deposits form. Finally, the whole engine overheats.

Leaks - As heat builds in a neglected cooling system, the coolant starts to boil more vigorously and can actually blast holes in your water pump or promote seal failure. The result is loss of coolant and ultimately vehicle breakdown.
Helpful Links