A. Installation of Pipe Fittings:
1. Tighten fitting by hand, then turn it 2-3 turns with a wrench until it reaches the desire torque listed. If the fitting is not pre-coated with sealant, or is used and the sealant is not in good condition, apply Teflon sealant tape to the threads.
B. Installation of Tubing into Fitting:
1. Slowly push a clean and perpendicularly cut tubing into the fitting until it comes to a dead stop.
2. Pull the tubing back gently until the Grip Ring or Collet of the fitting grips onto the tubing and has a good seal.
3. Use Polyethylene, Polypropylene, Polyurethane or Nylon Tubing designed for instant fittings.
4. Hard metal tubing can be used for all metal Stainless Steel and all Brass fittings if the tubing is pre-grooved.
Recommendation of Torque for Tightening Fittings

Fitting Thread Size

Torque, lb-ft

Torque, kgf/cm

10-32, M5 –M6

1.0 -1.5

14 –21

NPT1/8, R1/8

5 -6.5

70 -90

NPT1/4, R1/4

8.5 -10

120 -140

NPT3/8, R3/8

16 -17.5

220 -240

NPT1/2, R1/2

20 -21.5

280 -300
C. Removal of Tubing from Fitting:
1. Push in evenly on the two long oval sides of the Release Button.
2. Pull out the tube while depressing the Release Button.
3. To reuse the tubing, cut off the lodged portion of the previously used tubing in an even and perpendicular fashion.
D. Recommended Tubing Material, Size and Hardness

| | | |
| --- | --- | --- |
| ubing Material | Specified Size | Hardness (Durometer) |
| Polyurethane | +/- 0.006" (+/-0.15 mm) | Shore A 85 or higher |
| Polyethylene | +/- 0.004" (+/-0.1 mm) | Shore D 44 or higher |
| Polypropylene | +/- 0.004" (+/-0.1 mm) | Shore D 44 or higher |
| Nylon | +/- 0.004" (+/-0.1 mm) | Shore D 44 or higher |
| Pre-grooved Metal Tubing | +/- 0.004" (+/-0.1 mm) | |
E. Specifications, Materials of Construction and Schematic of Typical Construction:
Composite Push-In Air Fittings

Stainless Steel Fittings

Nickel-Plated Brass Fittings

(Standard-Purple Button)

(K Series-Black Button)

Maximum Operating Pressure

150 PSI @ 72 °F

180 PSI @ 72 °F

250 PSI @ 72 °F

250 PSI @ 72 °F

Vacuum

0 - 29.5 in Hg (750 mm Hg)

0 - 30 in Hg (760 mm) Hg

0 - 30 in Hg (760 mm) Hg

Operating Temperature

32 - 140 °F (0 - 60 °C)

5 - 230 °F (-15 to 110 °C)

5 - 230 °F (-15 to 110 °C)

Recommended Tubing Material

Polyurethane, Nylon, Polyethylene, Polypropylene

Polyurethane, Nylon, Polyethylene, Polypropylene, and
Hard metal tubing (tubing must be pre-grooved)

Metal Body

Brass, Nickel Plated

316 Stainless Steel

Nickel-Plated Brass

Plastic Body

PBT (Polybutylene terephthalate)

None

None

Release Button

POM (Poly oxy methylene copolymer)

316 Stainless Steel

Nickel-Plated Brass

Grip Ring or Collet

300 series Stainless Steel Grip Ring

316 Stainless Steel Collet

Nickel-Plated Brass Collet

O-ring

NBR (Buna-N)

VITON

NBR (Buna-N)

Thread Sealant

Teflon

None

Teflon

Service

FOR AIR ONLY

Air, Liquid

Air, Liquid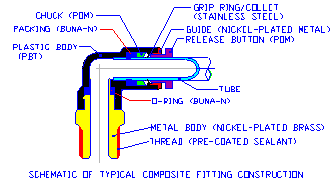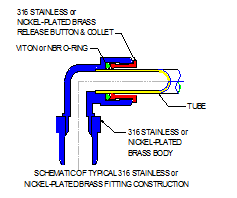 PART NO.

Tube OD

T
Pipe Size

B

C

E

G

H

H1

P

T1

WEIGHT (g)

BC 5/32 N1/8

5/32

NPT1/8

1.05

0.60

0.17

0.44

7/16

7/16

0.33

0.47

18.0

BC 3/16 N1/8

3/16

NPT1/8

1.16

0.51

0.32

0.40

7/16

9/16

0.41

0.55

30.0

BC 3/16 N1/4

3/16

NPT1/4

1.16

0.70

0.23

0.48

11/16

9/16

0.41

0.54

25.4

BC 1/4 N1/8

1/4

NPT1/8

1.08

0.63

0.23

0.41

11/16

9/16

0.38

0.54

32.0

BC 1/4 N1/4

1/4

NPT1/4

1.21

0.68

0.28

0.50

11/16

9/16

0.38

0.55

26.4

BC 5/16 N1/8

5/16

NPT1/8

1.16

0.74

0.23

0.45

3/4

3/4

0.56

0.62

32.3

BC 5/16 N1/4

5/16

NPT1/4

1.25

0.76

0.27

0.46

3/4

3/4

0.56

0.62

28.2

BC 3/8 N1/4

3/8

NPT1/4

1.28

0.79

0.27

0.46

7/8

7/8

0.57

0.78

49.7

BC 3/8 N3/8

3/8

NPT3/8

1.37

0.84

0.32

0.52

7/8

7/8

0.57

0.77

46.6

BC 1/2 N3/8

1/2

NPT3/8

1.49

0.91

0.33

0.56

1

1

0.78

0.85

71.5

BC 1/2 N1/2

1/2

NPT1/2

1.50

0.90

0.33

0.59

1

1

0.78

0.86

58.5

BC 4 R1/8

4

R1/8

27.5

17.2

6.4

10.1

14

14

8.5

12.0

19.2

BC 4 R1/4

4

R1/4

30.1

18.4

6.8

12.3

19

14

8.5

12.0

25.0

BC 6 R1/8

6

R1/8

28.8

16.9

6.6

11.2

17

17

9.6

14.0

30.6

BC 6 R1/4

6

R1/4

29.2

15.5

5.7

12.5

17

17

9.6

14.0

26.4

BC 6 R3/8

6

R3/8

31.2

17.8

7.6

13.2

19

17

9.6

14.0

26.4

BC 8 R1/8

8

R1/8

29.6

18.0

5.7

11.1

17

19

14.0

16.0

31.6

BC 8 R1/4

8

R1/4

30.5

20.2

6.6

12.2

17

19

14.0

16.0

28.8

BC 8 R3/8

8

R3/8

31.7

19.1

7.3

13.1

19

19

14.0

16.0

28.4

BC 8 R1/2

8

R1/2

36.8

21.2

9.4

15.4

24

19

14.0

16.0

44.1

BC 10 R1/8

10

R1/8

31.5

21.4

7.5

10.2

21

24

17.0

20.0

52.7

BC 10 R1/4

10

R1/4

32.7

21.4

7.4

11.2

21

24

17.0

20.0

50.5

BC 10 R3/8

10

R3/8

38.4

22.8

8.8

15.1

21

24

17.0

20.0

55.4

BC 10 R1/2

10

R1/2

38.4

23.4

9.4

14.9

24

24

17.0

20.0

54.4

BC 12 R1/4

12

R1/4

33.2

22.2

8.2

11.0

24

26

19.0

22.0

65.3

BC 12 R3/8

12

R3/8

37.0

23.3

9.1

14.3

24

26

19.0

22.0

69.9

BC 12 R1/2

12

R1/2

37.7

23.5

8.3

15.2

24

26

19.0

22.0

59.3